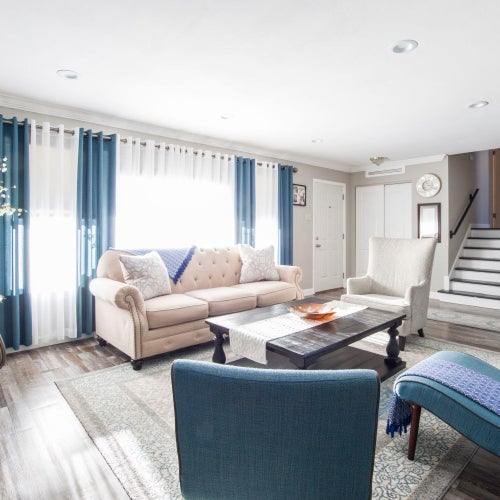 With the move to buyers' markets in many areas, you'll want your for-sale home to look its best, and that requires focus. 
Focused staging, that is.
Staging your home can increase the offer amount by up to 10%, according to the National Association of Realtors (NAR) 2017 Profile of Home Staging. But what if you haven't the time or cash to stage the whole house? 
You focus on the rooms that push buyers' buttons. A messy mudroom may not kill your sale, but an unusable kitchen or master bedroom may be a deal-breaker.
Few buyers can see beyond your personal style, particularly in hot-button areas like the living room, kitchen and master bedroom. So concentrate on staging these. 
This article—from RISMedia—may help:
According to the NAR Profile, the living room is one of the most popular to stage. Make it feel larger by replacing bulky furniture with smaller pieces. Help buyers to imagine their things here; leave lots of space on shelves and around furniture.
In the kitchen, declutter countertops, the fridge and inside cabinets (yes, buyers will look). Add color with a bowl of fruit.
"Most bedrooms don't need much more than the bed, dresser, end tables, and a mirror," the article suggests. 
Make the bed the focus with beautiful, but not necessarily expensive, linens.
A clean bathroom is a saleable bathroom. 
The master bath, especially, should gleam. 
Add attractive towels and battery candles for atmosphere.
And don't forget to tidy the outside. 
You know what they say about first impressions.