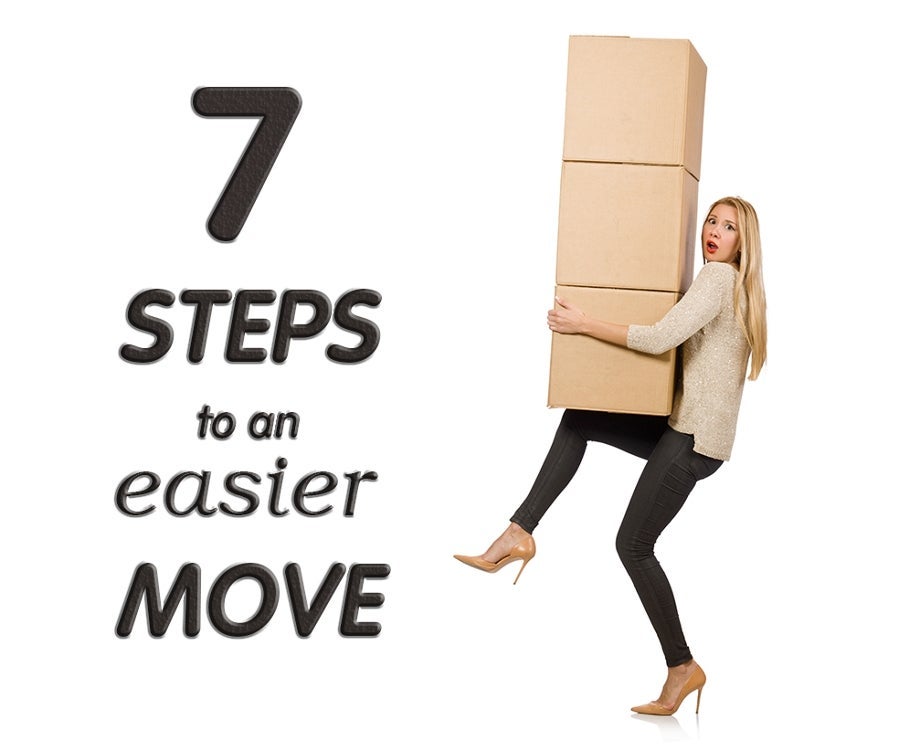 Moving can be a painful process, mentally AND physically. Many people don't realize how much they have accumulated over the years and moving it all becomes overwhelming FAST. Here are 7 Steps to an Easier Move. Following these steps one at a time will quickly turn an overwhelming project into successful progress and a satisfied feeling of achievement when you are happily nestled into your new abode.
Don't delay!

Taking one step at a time, start as soon as you know you're moving. The easiest moves are when you start even BEFORE you plan to move. You can start the sorting process (Step 2) anytime.

Sort!

One room at a time, sort through all your things from toys and clothes to furniture and electronics into three categories: Keepers, givers, and tossers. The keepers are things in good condition that you use regularly (at least once or twice a year). The givers are things in good condition that you don't like, don't need, or don't use. They can be taken to a charity. Some charities even pick up donations at your home. Tossers are things that have little or no value that should be thrown away. Note: Personal paperwork should be shredded before being discarded to avoid identity theft. Old computers and phones should be charged and personal data removed for the same reason.

Organize!

Set up a packing system in advance so you don't lose important items. Choose whatever system works best for you. Many people use a different color for each room, writing the room name and basic contents on each box. Some number the boxes and keep a list. Others label the boxes with room name and a detailed list of contents. There are a million ideas online of how to organize packing for a move…there's no wrong way as long as you USE them!

Get ready!

Purchase and gather moving supplies. You'll need boxes, packing tape, markers, newspaper or packing paper, bubble or sponge wrap, scissors, etc. Having all your supplies on hand before you begin makes the actual packing go much faster.

Get started!

Packing can take weeks if you're not under a strict deadline. Packing a little at a time can ease the load on your time and your back! First, pack the things you don't need right away. Especially if you are still showing your home to buyers, packing up off-season clothing, toys, and sporting goods can make closets look larger. Pack decorative items next. You won't miss them in your day-to-day, and you'll have time to pack delicate or valuable knick-knacks properly when you aren't pressed for time. Continue until you've packed everything you don't use daily. Lastly, pack daily use items.

Pack your starter kit!

What will you need the first evening and the first morning at your new home? Pack clothing for the family in a suitcase, along with toiletries. Pack a few boxes marked "SPECIAL" with the coffee, coffeemaker, cereal, baby supplies, can opener, a few dishes, baby bottles, whatever you'll need in the first 12 hours or so in your new place. This is also the perfect box to stash beloved stuffed animals, pillows, sheets, and towels. And don't forget paper towels and toilet paper!

Second Sort!

As you UN-pack your boxes, take a little time to decide if everything you moved is really needed in your new home. Keep a few open boxes nearby in case you find more giver or tosser items as you unpack. You'll be surprised at how many of those items got moved!